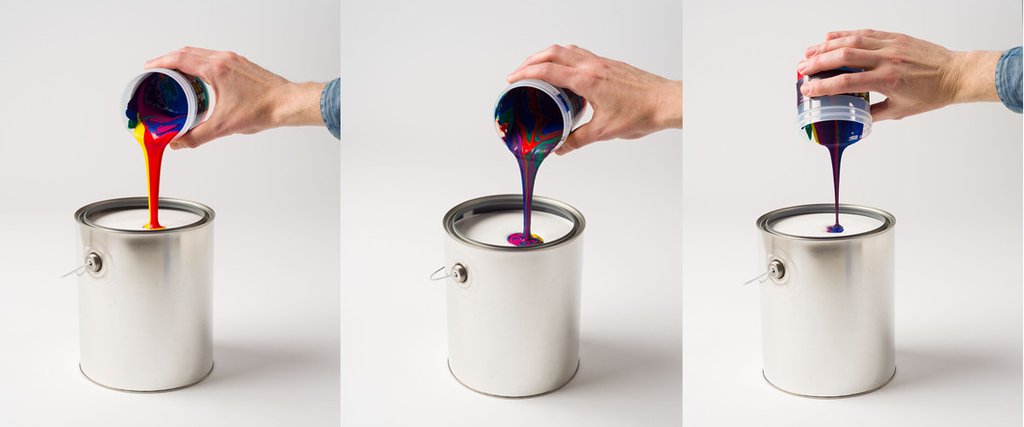 Recently Benjamin Moore changed product formulations. Due to VOC regulations, they essentially hybridized Regal Select and Regal Classic into one product. The performance and flow characteristics between the two were slightly different, but due to the consolidation, it's a "half a loaf" compromise. After our preliminary testing at Color Factory, we believe that the exacting formulations needed for the Donald Kaufman Colors could be affected. That is our current belief at this time.
When gallons are tinted at the Color Factory, the colors are always compared to control bases – when tinted gallons leave the Color Factory, quality control is always performed.  Corrections are made as needed, the gallons sent out match the "control colors".
If corrections are needed they are made by the Color Factory before being shipped out. Any variance will be caught and remedied, to maintain color integrity.
However with the new Benjamin Moore base formulation changes, simply adding a concentrate jar into a new hybrid base may produce a color that does not precisely match the original color. Some colors in the library, and some sheens, could be unaffected. With 104+ colors and several sheens, and the new bases available for a short time? More testing and experience is needed. While the differences could potentially be imperceptible to many, "close enough" is not acceptable to meet the exacting standard required for Donald Kaufman colors.
As such, in 2021 we have restricted the availability of the color concentrates. We will do so until we can be completely sure that the bases have not changed those colors to look different than the ones we know and love. Again, in factory tinted gallons we can make any required changes needed, in colorant jars, we would be flying blind, and so would the consumer.